The Tanzania Training Centre for Orthopaedic Technologists (TATCOT), located in Moshi at the foot of Mt. Kilimanjaro, provides courses in orthopaedic technology to English speaking students from across Africa. In November 2005, Brian Davis (then ISB President) visited Harold Shangali and Longini Mtalo at TATCOT, making their 'grand vision' of a future gait lab a real possibility. Training began the following year with a trip by Mr. Shangali and Mr. Mtalo to Kit Vaughan's gait lab at the University of Cape Town from where the Vicon motion analysis system was subsequently donated. A couple of months later, ISB members Joe Hamill, Geza Kogler, and Brian Davis helped local staff install AMTI force platforms, donated by the Cleveland Clinic Foundation, in the TATCOT facility. After trouble shooting a few technical issues with the camera equipment that were eventually resolved with the support of Vicon and ISB representatives, the gait lab was successfully opened in November 2007!
Contact
TATCOT
PO Box 8690
Moshi, Tanzania
Telephone: (+255) 27 2753986/7
Fax: (+255) 27 2752038
Email:
This email address is being protected from spambots. You need JavaScript enabled to view it.
Website:
http://www.tatcot.org/
LATEST ANNOUNCEMENTS
1) TATCOT would like to expand their professional library resources. Please scroll down for more information and for the list of requested books.
2) A complete report of the recent ISB visit to TATCOT is now available for download. Scroll down to read the Executive Summary.
Who's Who in TATCOT?
| | | |
| --- | --- | --- |
| Organization | Name | Role |
| TATCOT | Harold Shangali | Principal; former President of ISPO |
| | Longini Mtalo | Deputy Principal (Academics) |
| | Joachim Moshy | Gait Lab Administrator: 2009-2012 |
| | Fortunatus Gitarda | Gait Lab Administrator: 2012-present |
| ISB | Brian Davis | ISB President (2005-2007); Project Initiator; Donator [Cleveland Clinic] of AMTI force platforms |
| | Andrea Hemmerich | ISB-TATCOT Project Champion |
| University of Twente | Bart Koopman | Project Collaborator; Professor of Biomechanical Engineering |
| Roessingh Research and Development (RRD) | Leendert Schaake | Project Collaborator; Lab Manager, RRD |
| | Hans Rietman | Project Collaborator; Scientific Director, RRD |
| Vicon | Jacques Gay | Technical Support Staff |
Other contacts are listed at http://www.tatcot.org/staffs%20contacts.htm.
The TATCOT Project History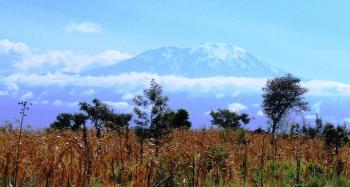 The Tanzania Training Centre for Orthopaedic Technologists (TATCOT) was founded in a town called Moshi (see http://wikitravel.org/en/Moshi) with material, financial and human resource support provided by the governments of Tanzania and the Federal Republic of Germany in June 1981. TATCOT is a supra-regional training centre providing courses in orthopaedic technology and enrols students from all English speaking African countries, as well as other interested countries (http://www.tatcot.org/). TATCOT is part of the Kilimanjaro Christian Medical Center (http://www.kcmc.ac.tz/), which is located in the foothills of Mount Kilimanjaro, Tanzania. The Kilimanjaro Christian Medical Center was opened in March 1971 by the Good Samaritan Foundation, who planned and raised large funds to build and equip it.
About a year before TATCOT was to celebrate its 25th anniversary, one of the leaders at KCMC asked each sub-group (TATCOT is one of these) to come up with a "Grand Vision" for the future - even if it was totally unreasonable from a financial point-of-view. Shortly after they came up with their vision of establishing a gait lab as a teaching, clinical, and research tool, Brian Davis (ISB President, 2005-07) called Longini Mtalo to ask if they had a gait analysis system. This must have come as an incredible surprise to Longini - something he confirmed with Brian after his first trip to TATCOT as they sipped a beer and gazed at the slopes of Kilimanjaro!
Initial ISB Visit to TATCOT
The TATCOT Project was initiated by Brian Davis during his time as ISB President. In November 2005 (28 November to 1 December) Brian traveled to TATCOT to establish personal connections with staff at the Centre. Brian spent most of his time with Mr. Harold Shangali; former President of ISPO) and Mr. Longini Mtalo. During this visit Brian gave lectures to the students on diabetic foot ulceration, rehabilitation and bone biomechanics. He also reviewed possible locations for a potential gait lab with the TATCOT staff.
TATCOT Staff Visit Cape Town
In order to give Harold Shangali and Longini Mtalo an understanding of what constitutes a gait lab, Brian Davis organized a trip for them to visit Kit Vaughan's Gait Laboratory at the University of Cape Town (UCT) in September/October 2006. Training was conducted on the 6-camera Vicon motion capture system that would later be sent to Moshi. Kit had persuaded Vicon to allow UCT to donate the equipment to TATCOT, rather than trading it in for the discount received on the purchase of UCT's new system. Three of Kit's students who helped the TATCOT staff considerably were Andrea Hemmerich, Nelleke Langerak, and Jacques Gay. Jacques later got a job at Vicon and is currently helping fix technical problems arising in TATCOT.
Travelling to TATCOT:
Fly into Kilimanjaro, the nearest big town, and then take a cab ride to Moshi. The driver who provided transport for Brian was Mr Mustafa Jambia. The $20 tip he received for each trip was apparently enough to pay for 6 months education for Mustafa's daughter! Brian Davis is happy to assist anyone from ISB in planning to get to TATCOT and a trip up Kilimanjaro.
Accommodation in TATCOT:
During his first visit, Brian stayed at the Sal Salinero Hotel for the first night, and the Impala Hotel for the remaining nights. Both are VERY nice hotels, with pools and other modern facilities, with the exception that internet access is terrible – and this is true anywhere in Moshi.
ISB Installation of Equipment in TATCOT
Force Platform Installation
In November 2006 ISB members Joe Hamill, Geza Kogler and Brian Davis traveled to Moshi to install AMTI force platforms in the new laboratory that had been constructed at TATCOT. The force platforms were donated by the Cleveland Clinic. Despite some challenges, the force platforms were successfully installed. Although they also attempted to install the Vicon motion analysis system, the cameras could not be set up. It later transpired that the frequent electrical failures had damaged the PC's motherboard.
Rectifying the Camera Installation
In early May 2007, Jacques Gay flew to TATCOT (at Vicon's expense) to help solve the camera issues. Jacques discovered an 'unhealthy' computer, a dead battery on the motherboard of the datastation (which he was able to replace), and problems with two cameras that could also be repaired. One problem that could not be resolved on-site was a faulty card in the datastation, which had likely failed as a result of power loss on a regular basis.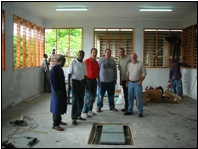 Derek Potter (Vicon Technical Support) proposed the following course of action to rectify the situation:
Vicon will pay to have the system (Datastation, Cameras, and FP Amp) shipped to Oxford where we will
Replace the ADC card in datastation
Donate a computer that will be newer and more reliable than the one they are presently using
Setup and configure the software on this computer
Integrate and test the FP Amp
Pay to have the system shipped back to the lab with the new computer pre-configured.
He also asked for the contributions listed below from the ISB:
As you have more information about lab, could you help with process of arranging shipping
Could you provide any funds towards the purchase of a UPS (Uninterrupted Power Supply).
Jacques was able to conduct training on the use of the Workstation software and PlugInGait marker placement, despite the absence of analogue data from the force platforms.
Based on the temperamental nature of the electrical supply in Tanzania, Brian Davis authorized the purchase of a Universal Power Supply: ON1000 VA Power Conditioned UPS (with 2 additional battery packs to provide approx. 1 hour 38 min runtime at 1000 VA load; £1470.60). Imogen Moorhouse sent an email on 9 July 2007 stating that Vicon was willing to change over the camera system from a "370 version" to a pre-owned MX3 system. Vicon then shipped this system plus their hardware to TATCOT.
TATCOT 25 Year Anniversary
On 5 November 2007, TATCOT celebrated their 25th anniversary. To coincide with TATCOT's anniversary, and to ensure the new equipment was installed, Leendert Schaake from the Netherlands agreed to fly to TATCOT. He arrived at Kilimanjaro airport on Monday 29 October and left on 8 November, 2007. During this time, Leendert connected the new Universal Power Supplies, the camera system and instructed people at TATCOT in the methods of performing gait analyses. On 2 November 2007, Harold Shangali wrote the following:
Dear Brian,

This is finally a follow-up of the efforts of both Mr. Mtalo and all your colleagues who you had consulted and involved in this very important project for our centre. As per recent report, yesterday was a unique day for us at TATCOT as we observed a well functioning system in which we could at least carry out some basic trials to appreciate the kinetics and kinematics of one of colleagues walking over the platform and signals being picked up by all the cameras and force plates respectively.

On behalf of the staff, KCM-College and the entire community involved in prosthetics and orthotics in this part of the world, I wish to formally thank you for this very valuable support to our centre and all those who will benefit from it and as Mr. Mtalo indicated, we will email you some photos as soon as possible.

Once again thank you and looking forward for our continuous support in this rather important teaching, clinical and research tool which will enable us demonstrate and use it to substantiate evidence based practice in the field of rehabilitation medicine.

Best Regards

H Shangali
Technical Challenges
In 2009 Marcel Rooze, a colleague of ISB Executive Officer Veronique Feipel, visited TATCOT while on a personal trip to follow up the installation and to see how the laboratory was functioning. Unfortunately he found that staff were experiencing technical problems with the Vicon system when collecting gait data. There was also a very strong demand of training in the field of motion analysis systems, use and application. During ISB2009 in Cape Town, Brian Davis and Veronique followed up with Jacques Gay, Vicon, and they indicated they were more than willing to help fix these problems.
Between August 2009 and April 2010, e-mails were circulated between TATCOT, ISB, and Vicon staff to try to establish the nature of the technical difficulties and options for their resolution. Hardware problems seem to be limited to synchronization of the analogue (force platform) and digital (camera) systems. Despite the need for further training, TATCOT staff have been collecting data to build up their experience in gait analysis.
Project Expenses
The costs associated with events up to November 2006 are outlined below:
| Item | Estimated Costs | Actual Costs (USD) |
| --- | --- | --- |
| 5 ISB people to TATCOT | $10,000 + $2,500 | $4,000 |
| 2 TATCOT people to Cape Town | $4,000 | $4,000 |
| Shipping costs | $4,000 | $4,000 |
| AMTI hardware | $15,000 | $1,000 |
| Vicon hardware | $20,000 | $0 |
| Vicon software | $6,000 | $0 |
| UPS | $3,500 | $3,600 |
| TOTAL | $67,000 | $16,600 |
Documenting the History
In October 2009, Julie Steele (ISB President, 2009-2011) drafted a history of the TATCOT project as a basis for effective communication between ISB and TATCOT. She also wanted to ensure project success and sustainability through on-going relevant support. At that time she wanted the ISB to ensure:
instrumentation in the gait laboratory was working properly.
staff at TATCOT knew how to use the systems and how to trouble shoot when technical problems arise. Staff must also be made to feel comfortable in seeking assistance if technical problems arise.
staff and students received opportunities for training in gait analysis.
A copy of the TATCOT project history is available in the ISB Archives.
TATCOT Champion
To ensure the project is sustainable in the long term, it is imperative that a "TATCOT champion" is identified. This champion must be willing to liaise with TATCOT staff and students and ISB members in order to foster ongoing research/clinical training projects and other relevant oportunities for ISB-related activities (such as student exchanges).
Current TATCOT Champion: Andrea Hemmerich, currently based at the University of Toronto (formerly at the University of Wollongong and University of Cape Town) assumed the role of project champion in January 2010.
Project Developments Since 2010 - a New Collaboration called TRUTI
After working with the TATCOT team to identify several of the technical issues and overall goals with respect to biomechanics curriculum development, Julie and Andrea suggested reaching out to the ISB community to find someone with both strong technical skills and an interest in developing clinical skills and possible research collaborations with TATCOT members (supported by the ISB) over the long-term. The response to the ISB-TATCOT invitation was very encouraging: 20 respondents from 12 countries around the world enquired about the project or offered assistance. A collaboration was established between Leendert Schaake (Roessingh Research and Development), who had spent time at TATCOT in 2007, and Bart Koopman (University of Twente), who had also spent time in Tanzania in addition to having the required expertise, as well as TATCOT and ISB members. Most importantly, there was an interest amongst all collaborators to set up a long-term relationship that would hopefully ensure sustainabilty of the project.
Andrea then worked with the TRUTI (Tanzania Training Centre for Orthopaedic Technologists - Roessingh Research and Development - University of Twente - International Society of Biomechanics) collaborators to draft a Memorandum of Understanding to determine the objectives and proposed initiatives of all contributors. Leendert Schaake was able to spend another week at TATCOT in June 2011, assisting staff in addressing the technical challenges in their gait lab. In cooperation with the ISB Executive Council and the Congress organizers, Andrea also coordinated a meeting of TRUTI collaborators at ISB2011, the first time many members of this international cooperation were able to meet face-to-face.
TRUTI collaborators continue to work together making progress towards the long-term goals of biomechanics development at TATCOT. Most recently in October 2012, Andrea Hemmerich and Bart Koopman visited TATCOT to support local staff on several specific issues, including student and staff training, lab and library resources, and an ISB institutional membership for TATCOT members. The December 2012 issue of ISB NOW includes a piece written by Andrea entitled, "Biomechanics Makes Strides in Africa: Reflections on my Visit to the Tanzania Training Centre for Orthopaedic Technologists (TATCOT)." A complete report of the visit can be dowlonaded here with an Executive Summary included below.
Executive Summary
As EDC Project Officer and TATCOT Project Champion, I was given the opportunity to represent the ISB at TATCOT for a 3-week visit in October 2012. Objectives for the visit included strengthening our collaboration and determining the current status of the gait lab, the ISB's contribution to their biomechanics curriculum development, and specific administrative issues. Over the course of the visit, I learned about the administrative setup of the lab at TATCOT and within the greater community, current needs including lab equipment (camera repair and digital vector analysis cameras), staff training, teaching modules, and library resources, as well as TATCOT's strategies to expand their biomechanics programmes at both undergraduate and graduate levels and the management structure that would sustain these initiatives. Bart Koopman (Professor, University of Twente) and I were able to provide some instruction on upper-limb and spine biomechanics, gait analysis, and biomechanics research opportunities to staff and students. Together with several of the TATCOT staff, we were also able to identify potential opportunities to further develop our collaboration through annual visits by Bart as student thesis examiner and staff/student guest lecturer, connecting with academics in related biomechanics fields via Bart's professional network, and through TATCOT members' representation at our upcoming ISB2013 Congress. We outlined a concrete proposal by which TATCOT staff and students could attain ISB membership that is affordable and logistically feasible. Overall, the outcomes for the visit were above and beyond my expectations and I am optimistic that this collaboration will continue to benefit all contributing collaborators in future.
Andrea Hemmerich,
TATCOT Project Champion
EDC Project Officer
Book Request:
TATCOT would like to expand their professional library resources for staff and students in the Prosthetics and Orthotics program. Please check your collections to see if you have any of the following volumes to donate:
| | Title | Author(s) | ISBN |
| --- | --- | --- | --- |
| 1 | Orthotics and Prosthetics in Rehabilitation | Michelle M. Lusardi, Caroline C. Nielsen, Millee Jorge | 1437719368 |
| 2 | Prosthetics and Orthotics: Lower Limb and Spine | Ron Seymour | 0781728541 |
| 3 | Gait Analysis: Normal and Pathological Function | Jacquelin Perry and Judith Burnfield | 1556427662 |
| 4 | Lower-Limb Prosthetics and Orthotics: Clinical Concepts | Alex Moroz and Joan Edelstein | 1556428960 |
| 5 | Basic Biomechanics of the Musculoskeletal System | Margareta Nordin | 1609133358 |
| 6 | Clinical Gait Analysis Theory and Practice | Christopher Kirtley | 0443100098 |
| 7 | The Identification and Treatment of Gait Problems in Cerebral Palsy | James R. Gage, Michael H. Schwartz, Steven E. Koop, Tom F. Novacheck | 1898683654 |
| 8 | AAOS Atlas of Orthoses and Assistive Devices | John D. Hsu, John Fisk, John Michael | 0323039316 |
| 9 | Atlas of Amputations & Limb Deficiencies | Douglas G. Smith, John H. Bowker, John W. Michael | 0892033134 |
| 10 | Human Walking | Frank Todd, Henry Ralston, Verne Thompson Inman | 068304348X |
| 11 | Biomechanics and Motor Control of Human Movement | David A. Winter | 0470398183 |
Opportunities for Students: Further Education
Ncedo Ludada (Tanzania) and Solomon Mmomelu (Nigeria) were awarded 2009 Affiliated Societies Development Student Grants. Both have been trained at TATCOT and remain in contact with staff and students there. Ncedo Ludada will use the grant to visit Richard Baker's lab. Solomon Mmomelu is currently working as a Prosthetist/Orthotist at the National Orthopaedic Hospital, Enugu State, Nigeria. He would like to pursue a Masters degree in the same field at either Loma Linda University, California, USA, or the University of Strathclyde in the UK. He is seeking financial support for the duration of his studies and would be grateful to anyone who could provide more information.
In 2007, TATCOT student Nyavo Yawo was awarded an ISB Student Travel Grant, which allowed him to travel to Hong Kong Polytechnic University to gain expertise in instrumented gait analysis.
ISB has established several student grant initiatives which are available to assist ISB student members. Why not apply to one of these schemes to travel to or from TATCOT for collaborative research experiences? Students from other institutions who are interested in visiting TATCOT should contact Andrea Hemmerich (ISB-TATCOT Project Champion).
A student mentoring program has been established by the ISB to assist students in all areas of biomechanics, including gait analysis. ISB members – both students and researchers who are interested in becoming mentors - are encouraged to become involved!
Since 2008, ISB has continued supporting the best TATCOT students at Tumaini University in the field of biomechanics by donating US $150.00 each year. The following students have received ISB Awards:
| | | |
| --- | --- | --- |
| Girma Bireda | 2009 | First Best Student in Biomechanics |
| Tafwane Samwel | 2009 | Second Best Student in Biomechanics |
| Christopher Likando | 2008 | First Best Student in Biomechanics |
| Solomon Mmomelu | 2008 | Second Best Student in Biomechanics |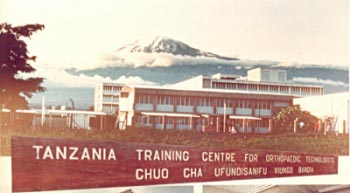 Opportunities for Clinicians/Researchers: Possible Collaborations
The team at TATCOT has extensive clinical knowledge, particularly in relation to prosthetics/orthotics. The way they use visual analysis of gait and posture to decide what has to be adjusted in a prosthesis or how to help a new patient is outstanding. TATCOT offers unique clinical opportunities for those with an interest in prosthetics and orthotics.
In June 2007, Professor Roger Gonzalez, Professor in Biomedical and Mechanical Engineering and Director, LeTourneau Engineering Global Solutions (LEGS) contacted Brian Davis with a desire to establish a collaborative research relationship with TATCOT. With most technical issues now resolved, TATCOT can determine whether they are interested in pursuing this partnership.
A collaboration between Duke and Kilimanjaro Christian Medical Center has previously been established: (http://cfar.duke.edu/wysiwyg/downloads/TanzaniaIRBInstructions_29May2008.doc). ISB is currently exploring options to coordinate collaborative projects involving ISB members and TATCOT, and to use the human subject procedures already established by Duke.
Other research collaborations with the Kilimanjaro Christian Medical Center are listed at: http://www.kcmc.ac.tz/research%20collaboration.html
Donations & Support
Donations and support for this project were received from the organizations listed below. ISB greatly appreciates this generous support:
Vicon: www.vicon.com
Second-hand MX3 motion capture system
Technical Support and Training
University of Cape Town: www.uct.ac.za
Second-hand 6-camera motion analysis system
Staff Training
Cleveland Clinic Foundation: http://my.clevelandclinic.org
AMTI: http://www.amti.biz/
Calibration of force platforms
Related hardware
ISB: http://isbweb.org/
Uninterrupted Power Supply (UPS)
Shipping of equipment
Installation of equipment
Staff Training
TATCOT: www.tatcot.org
Transportation for ISB representatives' visits