Overview
I hope that everyone is having a great Fall Semester (or Spring for the southern hemisphere) at school!
We are going to start a new initiative for students this coming January of 2020, with creating a student subcommittee for ISB. If you are interested in being considered for this opportunity, please email me, and I will send you the application. All applications will be due by January 11th, 2020. I look forward to hearing from you!
Email: This email address is being protected from spambots. You need JavaScript enabled to view it.
Get ready for ISB 2021 in Stockholm!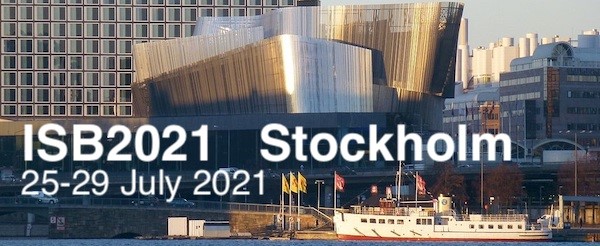 Upcoming Events
April 5th-8th, 2020: International Foot and Ankle Biomechanics Meeting, Sau Paulo (Brazil)
July 11th-14th, 2020: International Society of Electromyography and Kinesiology (Nagoya, Japan)
July 12th-15th, 2020: European Society of Biomechanics (Milan Italy)
July 16th-17th, 2020: Singapore Conference on Sport Science (Singapore)
July 21st – 25th, 2020: International Society of Biomechanics in Sports (Liverpool, UK)
August 4th-7th, 2020: American Society of Biomechanics Annual Conference (Atlanta, GA)
Information
For any and all graduate positions and employment, remember to stay up to date with Biomch-L.
Here is the link: https://biomch-l.isbweb.org/forums/5-Jobs-and-Positions
Biomechanics on our Minds (BOOM) Podcast

Episode 21: Competitions for All People
Episode 20: ACL Health Kneeds Biomechanics
Episode 19: Researching Strong as Steele (feat. Julie Steele)
Social Media
Be sure to keep up to date with ISB by liking our ISB Facebook Page, joining the Student Members Facebook Page, and following ISB on Twitter. Please reach out to me with any comments, questions, suggestions, or just to talk. You can contact me at: This email address is being protected from spambots. You need JavaScript enabled to view it..
Best Wishes,
Megan Smidebush
ISB Student Representative