Intersegmental forces and moments are integral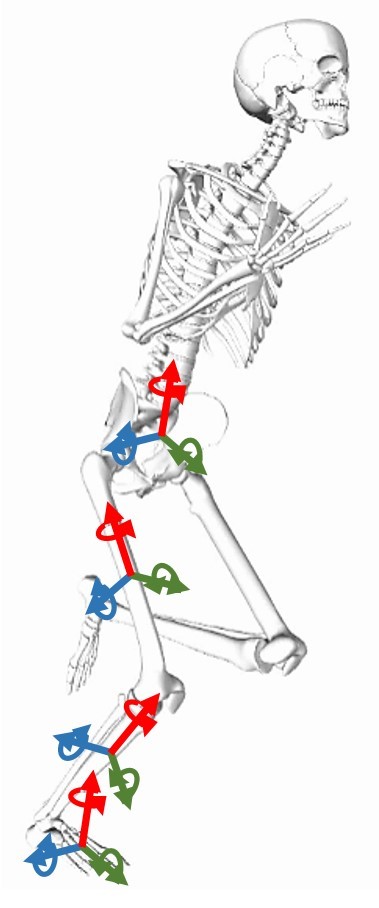 to the analysis of human motion. They represent the net loads acting at a joint and as such allow us to mechanically evaluate the movement. Typically, we collect kinetic and kinematic data from an individual and then apply the external forces to a rigid body model of the human body that has been given the anthropometrics and kinematics of the individual. This is a complex process that requires a working knowledge of signal processing, kinematics, kinetics, modelling, inverse dynamics, and error propagation. It is not surprising that laboratories around the world have chosen different methods to accomplish these calculations. Unfortunately this has resulted in researchers presenting and interpreting intersegmental moments in a variety of ways.
A committee was formed in the summer of 2017 (Tim Derrick, Ton van den Bogert, Andrea Cereatti, Raphael Dumas, Silvia Fantozzi, and Alberto Leardini), by ISB president Joe Hamill and assigned the task of providing some clarity to these issues. The first task was to list the topics that we wanted to cover. Among these were anthropometric modelling, joint center estimation, smoothing/filtering, method of calculation, coordinate system, evaluation perspective (internal or external), and normalization. It is unsurprising that no two of the committee members used the same methods. It also came to light that each member had logical reasons for making their decisions. At this point it became evident that a single standard for the calculation of intersegmental moments would not work. The goal of the research needs to dictate the procedures used. While reading the literature it also became evident that authors do not always explicitly state the procedures used in their estimation of intersegmental forces and moments. Even the very basic concepts of whether the moments were internal (primarily the result of muscular contraction and ligaments) or external (primarily the result of forces acting on the body) and what coordinate system (proximal segment, distal segment, joint coordinate system, etc) was used were often neglected. Seeing a graph of a joint moment in a research article and not knowing how to interpret it is common for most researchers but imagine the confusion of a first year graduate student trying to verify the results of their joint moment program by comparison with the literature.
The resulting open source article, "ISB recommendations on the reporting of intersegmental forces and moments during human motion analysis" was published in the Journal of Biomechanics. It contains an appendix that can be used as a checklist by authors, reviewers and software engineers to ensure comprehensive information is conveyed. In addition, there is companion software that has been submitted to the ISB website that presents 3D ensemble walking and running intersegmental forces and moments at the hip, knee and ankle. The coordinate system, perspective and normalization procedure can be altered for easy comparison of data. Recently a Biomch-L posting has invited the biomechanics community to comment on this paper and make suggestions. It is our hope that this paper and these tools will lead to a more comprehensive and consistent presentation of intersegmental forces and moments so that authors can better represent their ideas to the reader.
Derrick, T. R., van den Bogert, A. J., Cereatti, A., Dumas, R., Fantozzi, S., & Leardini, A. (2020). ISB recommendations on the reporting of intersegmental forces and moments during human motion analysis. Journal of Biomechanics, 99, 109533.