Home

>

News

>

Issue 96 - June 2005
September 2022
---
ISB wants to hear from our ISB members!
Send your suggestions of topics that you would like to read in the next issues of ISB Now to This email address is being protected from spambots. You need JavaScript enabled to view it.and we will work to attend your requests.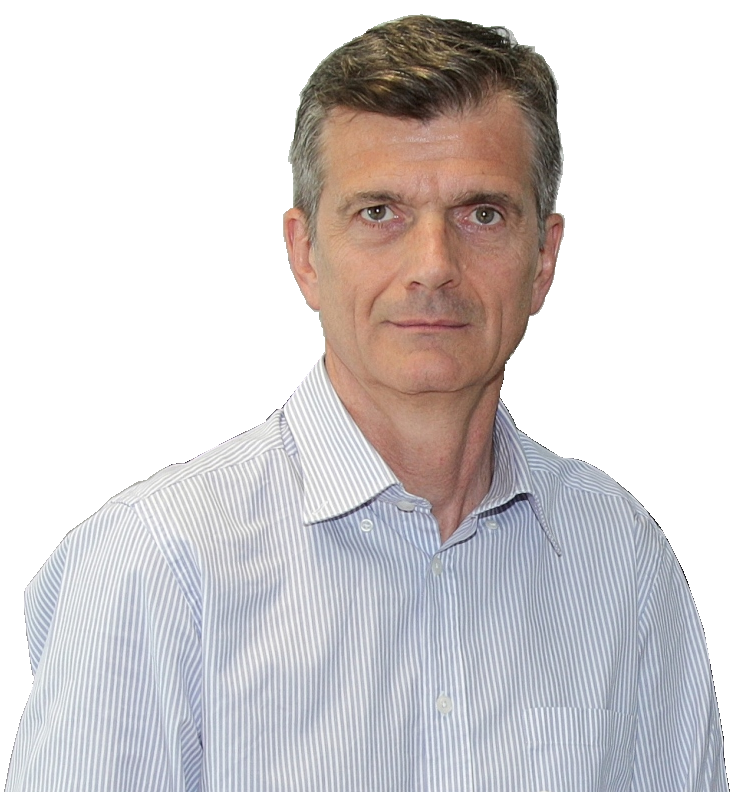 I want to follow what started in the previous issue of ISB Now, about our fascinating job. A few recent thoughts and experiences, which eventually are in the same direction.
One of the relevant aspects I am currently excited about and intrigued by is the terrific technical and analytical instruments now available. Motion capture systems, AI, Big-data, digital medical imaging, and the so called multi-scale paradigm, are all great new opportunities also for our developments and knowledge in biomechanics. These advances are very attractive, and I do recommend taking advantage of them and sharing thoughts and new ideas with our colleagues. On the other hand, all this should not leave behind the original inspiration and continuous fuel for continuing and progressing in our work, which is the curiosity, passion, and animation for research. Even with the most modern and automatic instruments in our hands, we shall not forget what inspired us at the beginning of our careers, this may have been a special research theme, a fascinating result, a great achievement, a brilliant researcher or research team.
I am reading a book of memory of a popular surgeon and researcher of my city, and his research was recalled as a human position of a continuous search rather than a standard job. Searching in fact, for us, is about looking or seeking carefully and scrupulously into the human body, to understand as many as possible secrets; for this, we shall be open minds, willing to accept any result and evidence, eager for any possible solution to our challenges. As the young researchers usually are.
The new CEO of an ambitious company in performance automotive here in Nord of Italy wanted a major new project to develop a driving simulator. He found the old engineers very skeptical, after many previous failures. The CEO then decided to go to a local university and recruit the best new graduates: they were able to develop the first prototype in a few months. The CEO explained the success of these young employees simply saying 'they did not know that it could not be done, and they did it'. Let's invest in the younger generation!
Finally, I wish to pay tribute to Queen Elizabeth II after her lifetime of service and devotion.
Alberto Leardini
ISB President

Celebrations of ISB 50 years anniversary are starting.
Over the next months and until our next ISB Congress in Fukuoka 2023, ISB Now will highlight the activities ISB is promoting to celebrate this milestone! Make sure you are up to date on the activities!
This is the committee enrolled in the planning of the celebration activities, do not hesitate to write to any of them to suggest ideas and initiatives:
Alberto Leardini, Daniel Hahn, Katherine Boyer, Jennifer Shin, Anja-Verena Behling, Brent Edwards, John Challis, Joe Hamill, Elizabeth Clarke, Felipe Carpes, Lanie Gutierrez-Farewik, Veronique Feipel.
In this month's report we want to share the success of the "50 years sessions" at the WCB, the 9th World Congress of Biomechanics, which happened from the 10th to 14th July 2022. The ISB sessions during the WCB were very successful and with an impressive number of participants, who helped to highlight the importance of ISB in the development of the biomechanics around the world in these decades. The ISB hopes that these sessions served as motivation to more and more people follow our Society and joint our activities. Check below for some screenshots taken during the online event.
JULY 12: ISB Affiliated Societies: Current Biomechanics in the World
Moderators: Jennifer Shin; Helen Bayne.
Speakers: Gwang-Moon Eom, Bing-Shiang Yang, Helen Bayne, and Hiroaki Hobara, Daniel Hahn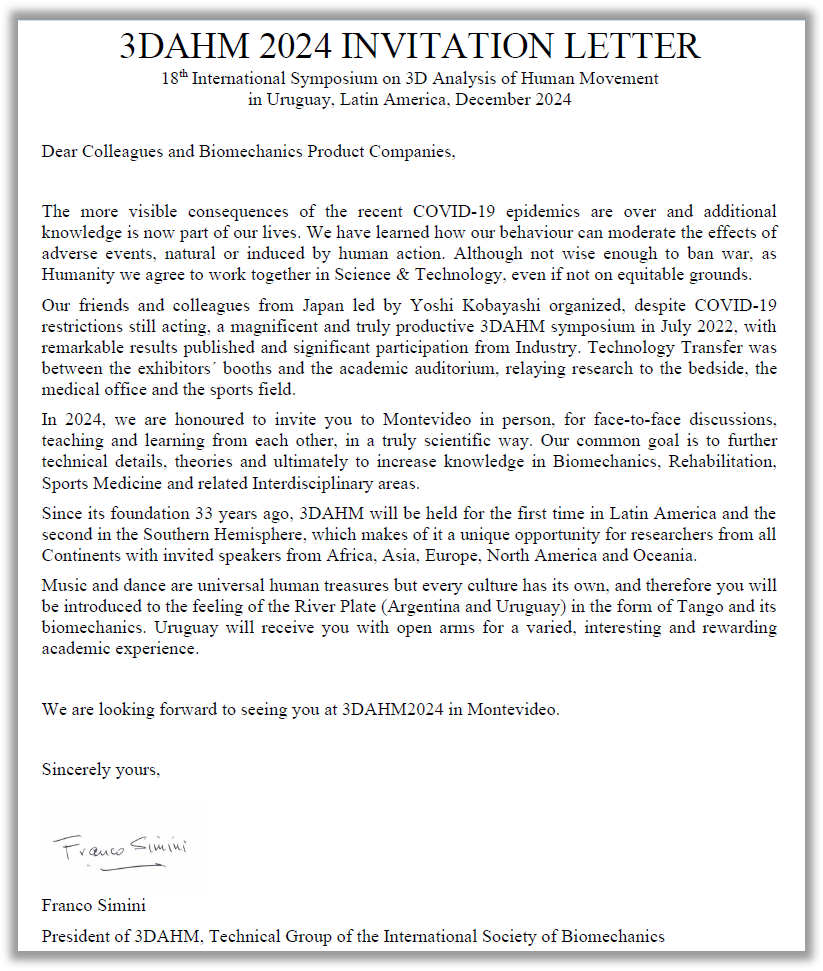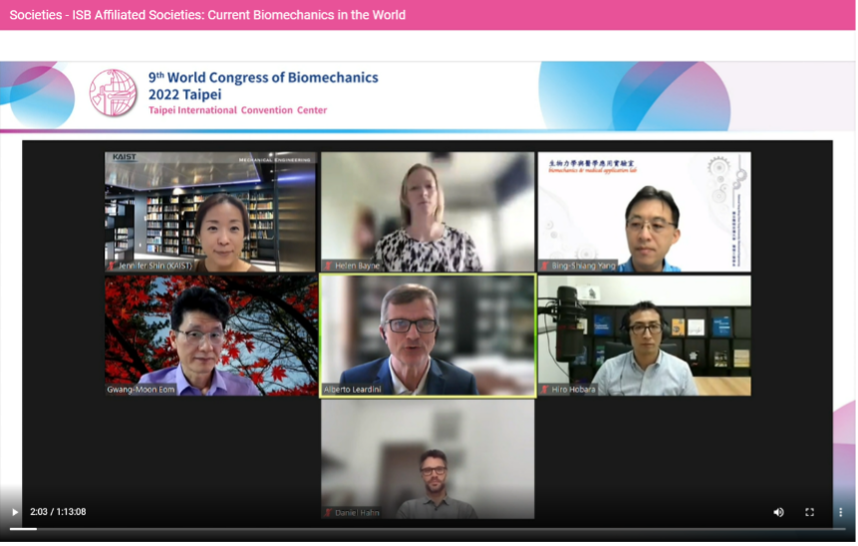 JULY 13: ISB Recommendations and Consensus in Biomechanics Foot and Ankle Bone Reference Definitions
Moderators: Amy Lorraine Lenz and William Ledoux
Speakers: Eric Thorhauer, Karen Krüger, Sorin Siegler, and Michele Conconi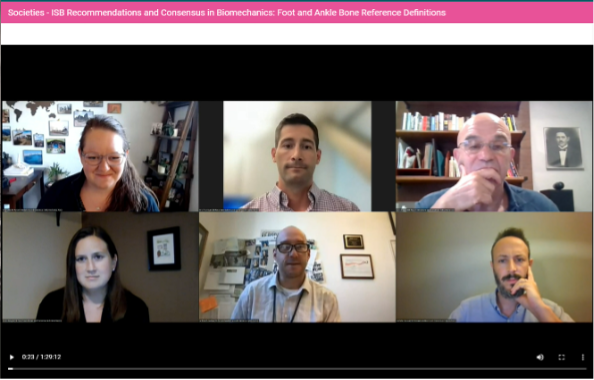 JULY 13: ISB 50 years of International Biomechanics: Contributions to Instruments and Techniques
Advances in Gait Analysis: Moving Forwards by Looking Backwards

by Brian L. Davis

The future of movement analysis: Bridging disciplines to improve access, adherence, and analysis of mobile biomechanical tools

by Melissa A. Boswell

The History of Contemporary Neuromusculoskeletal Biomechanical Modelling

by David Lloyd

The Future of Contemporary Neuromusculoskeletal Biomechanical Modelling

by Luca Modenese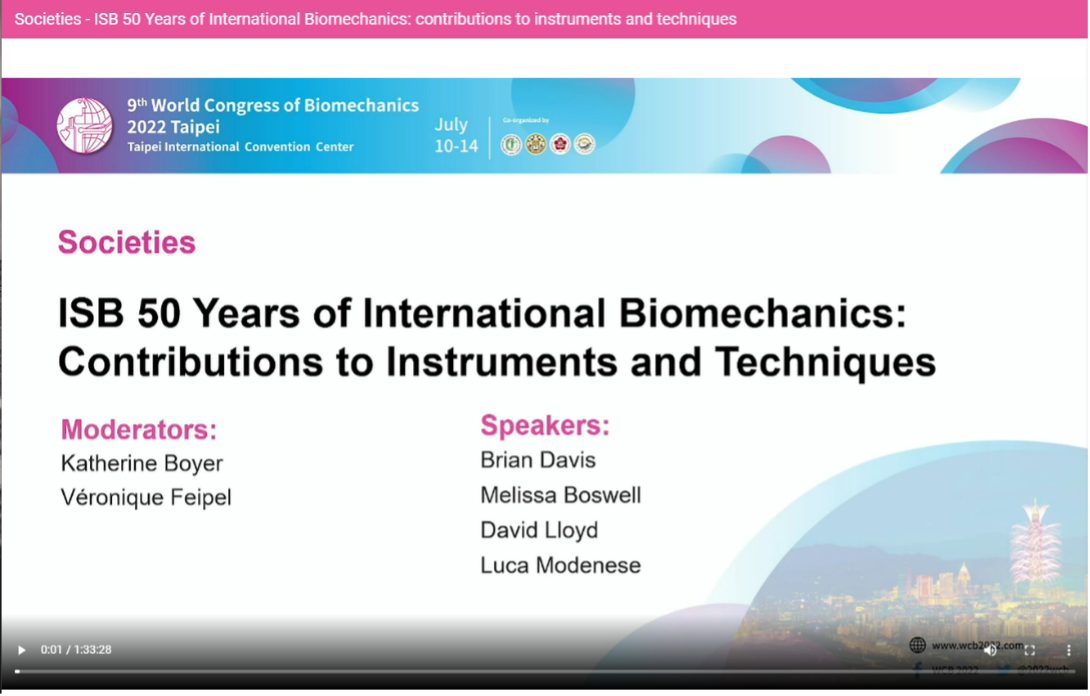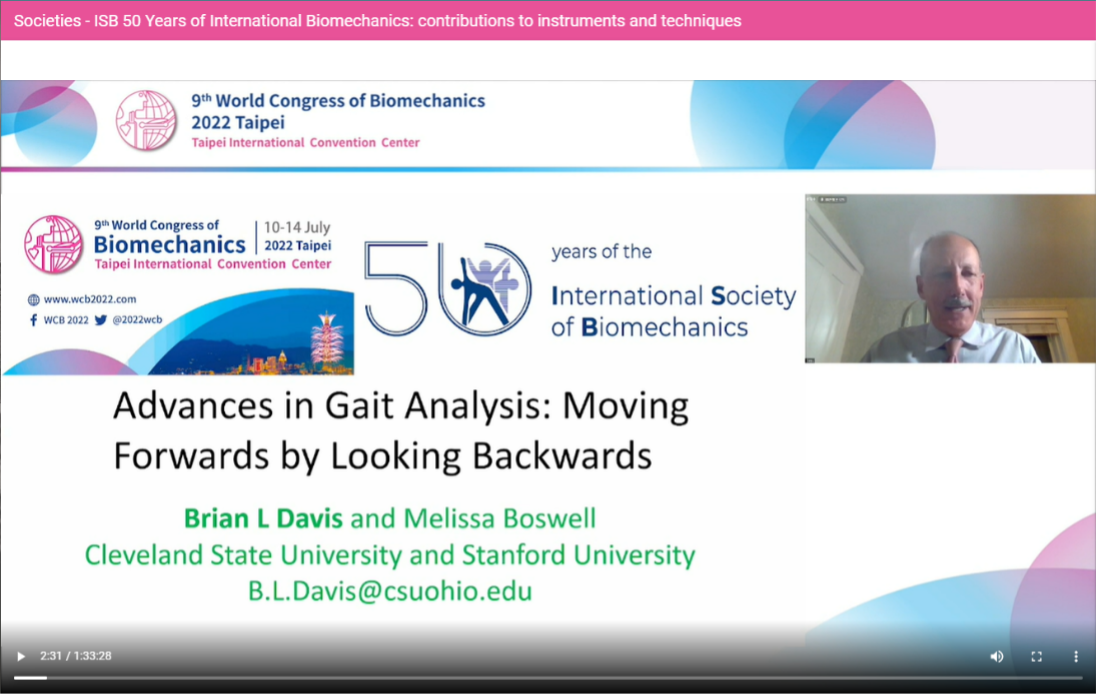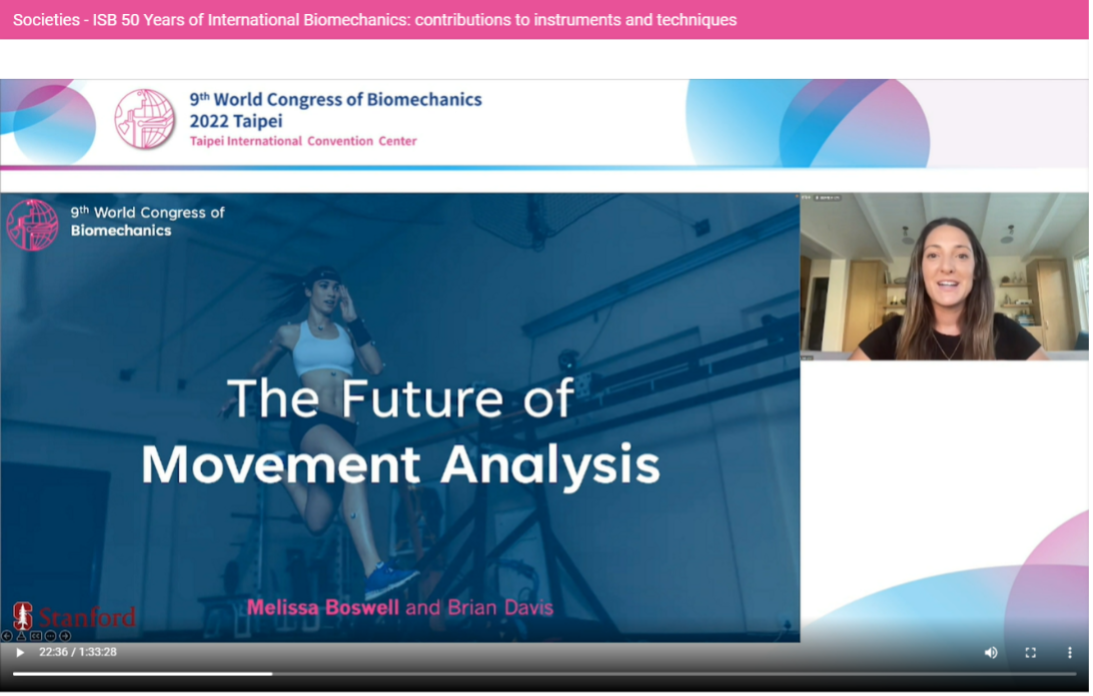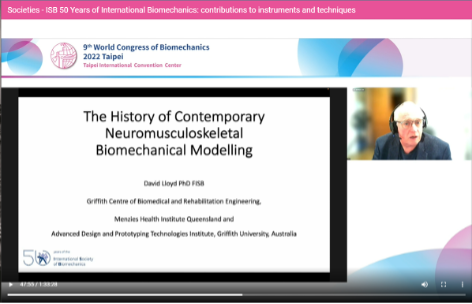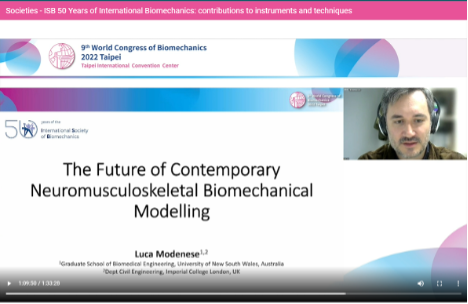 JULY 13: ISB 50 years of International Biomechanics: Contributions to Basic and Applied Science
Evolution of knowledge in muscle mechanics: molecular mechanisms of contraction

by Walter Herzog

Past, present, and future: 50 years of discoveries into in vivo whole muscle mechanics.

by Taylor JM Dick

Performance-enhancing shoes – are they cheating? Rules and biomechanics

by Toni Arndt

The use of running footwear among elite marathon athletes during the Tokyo 2020 Olympic Games – the last Games with the 'super shoe'?

by Kai Wang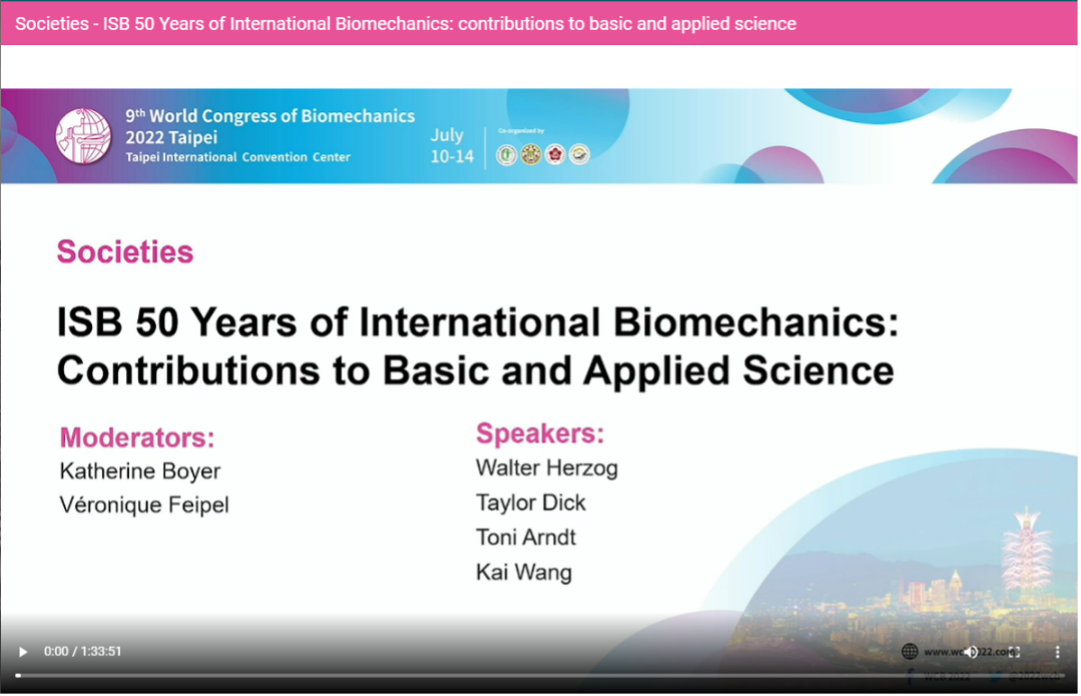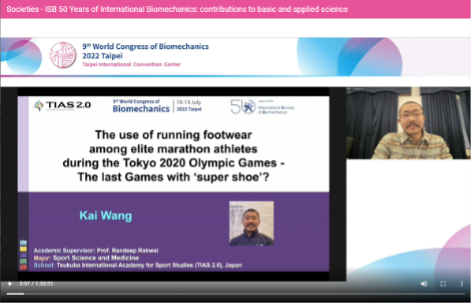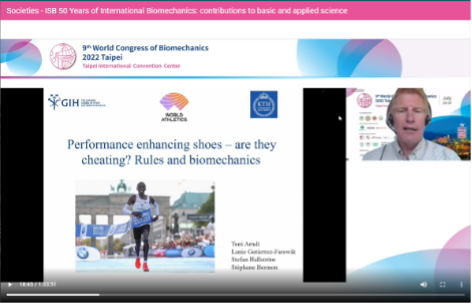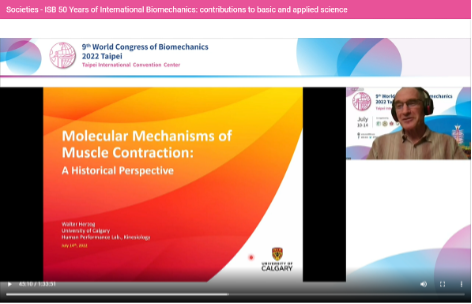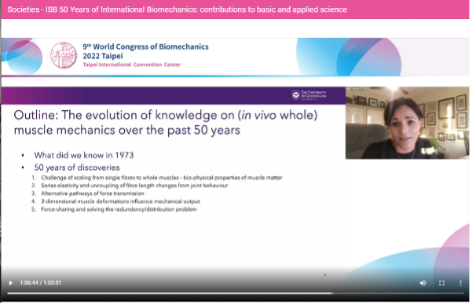 JULY 13: ISB Sponsored Plenary Lecture
Design and Manufacturing of Custom-made Implants in an Orthopedic Centre
Alberto Leardini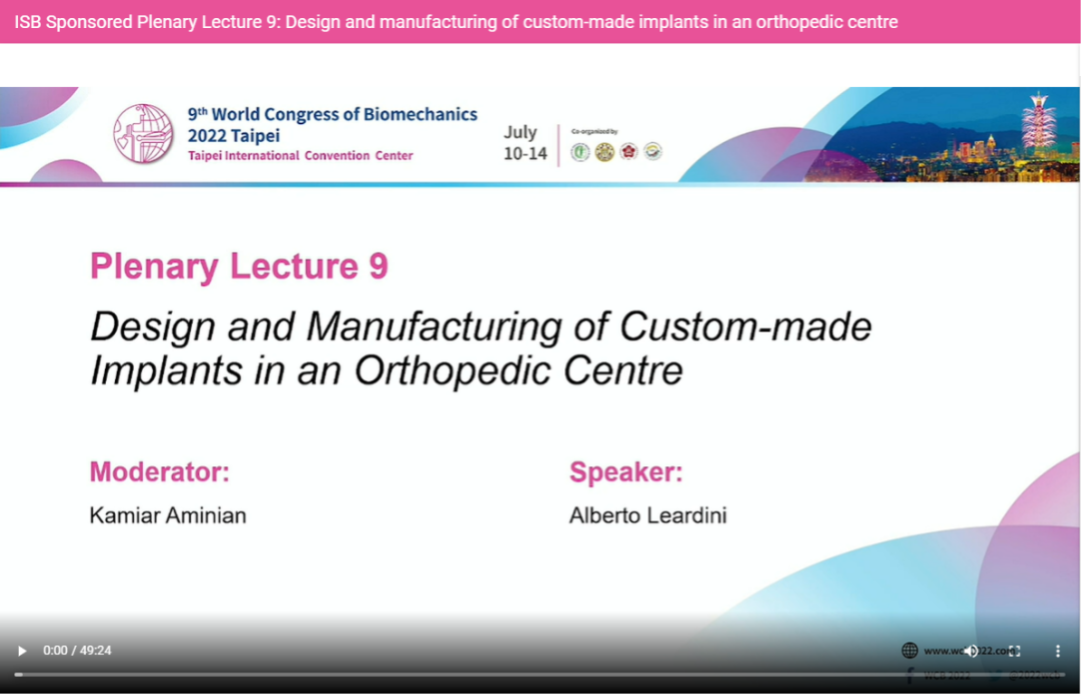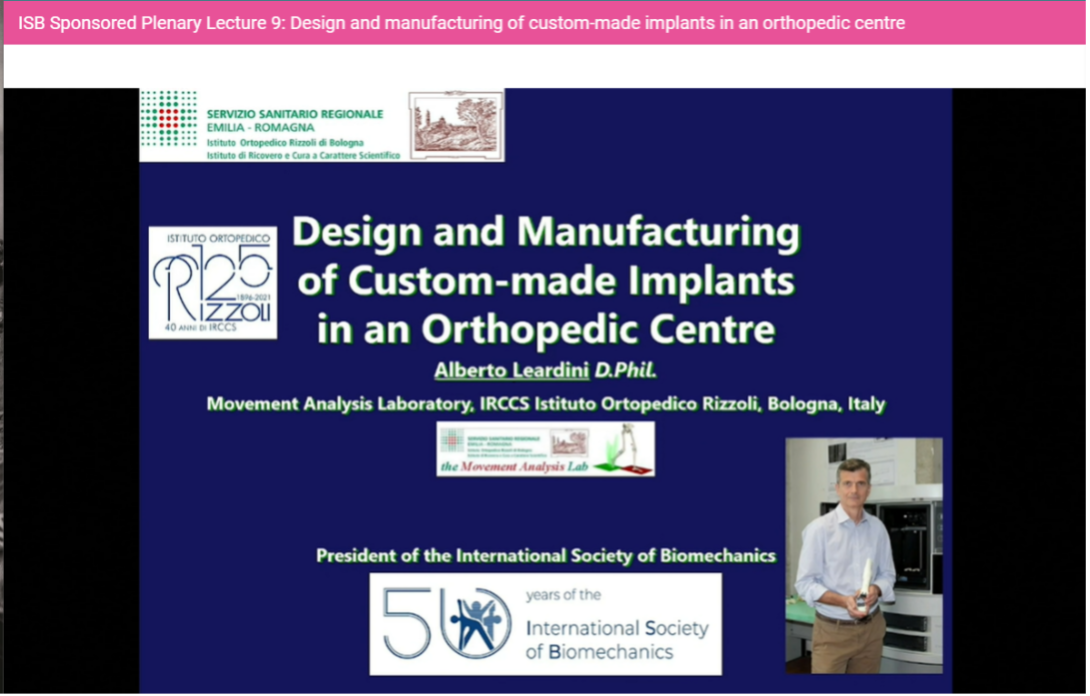 JULY 14: Award Session
International Society of Biomechanics Female Research Excellence Award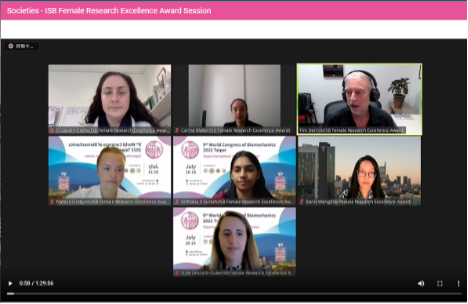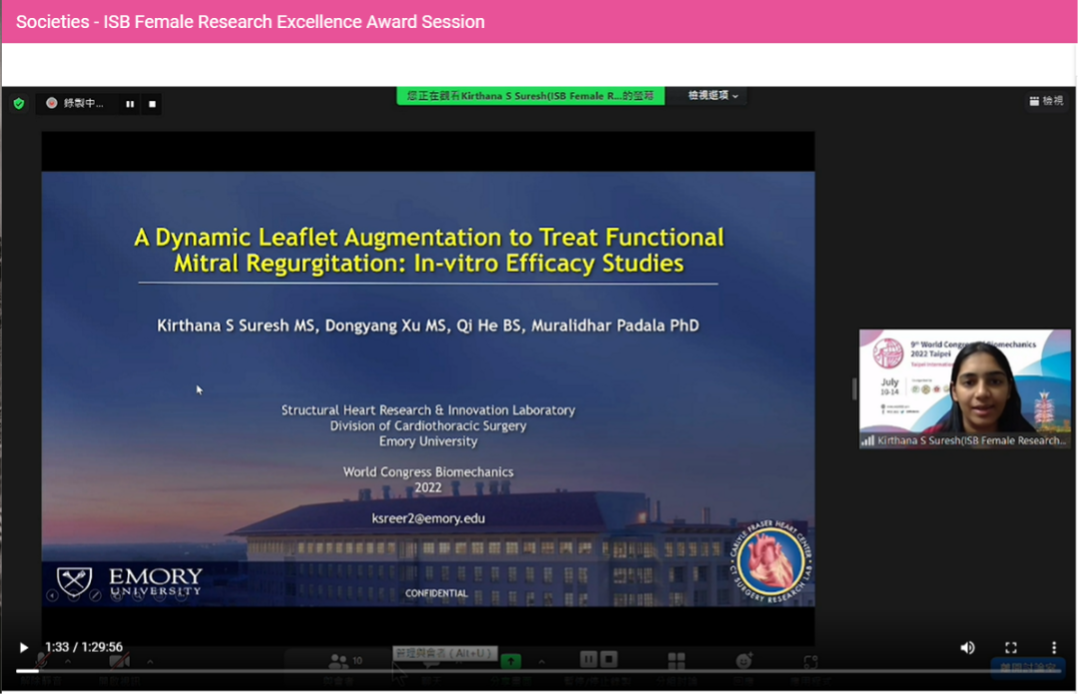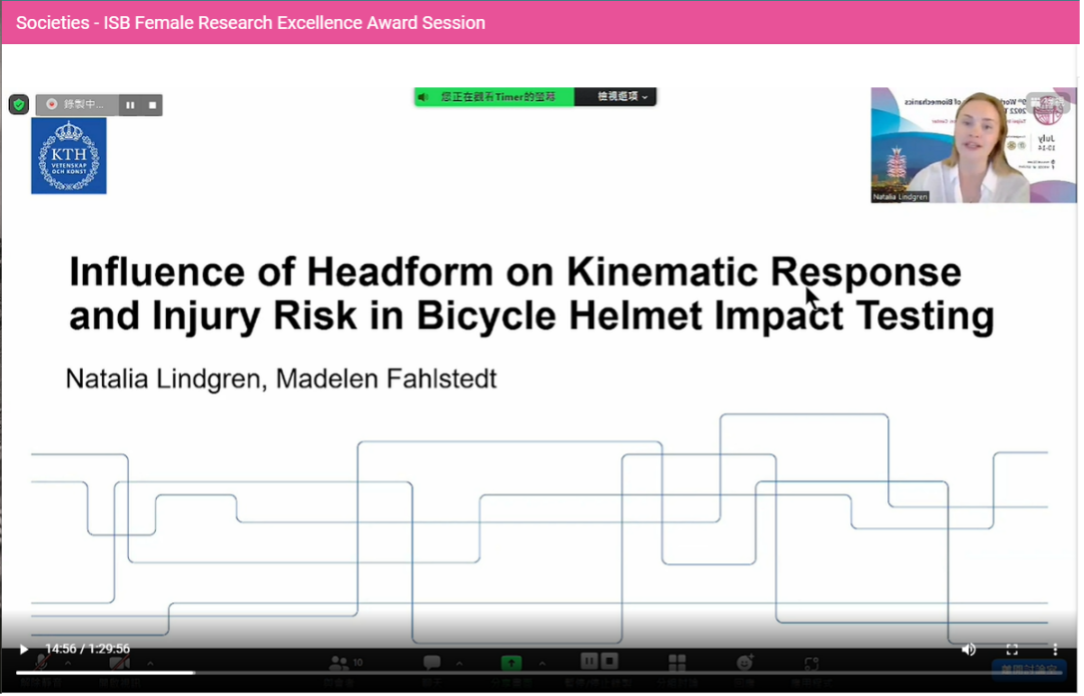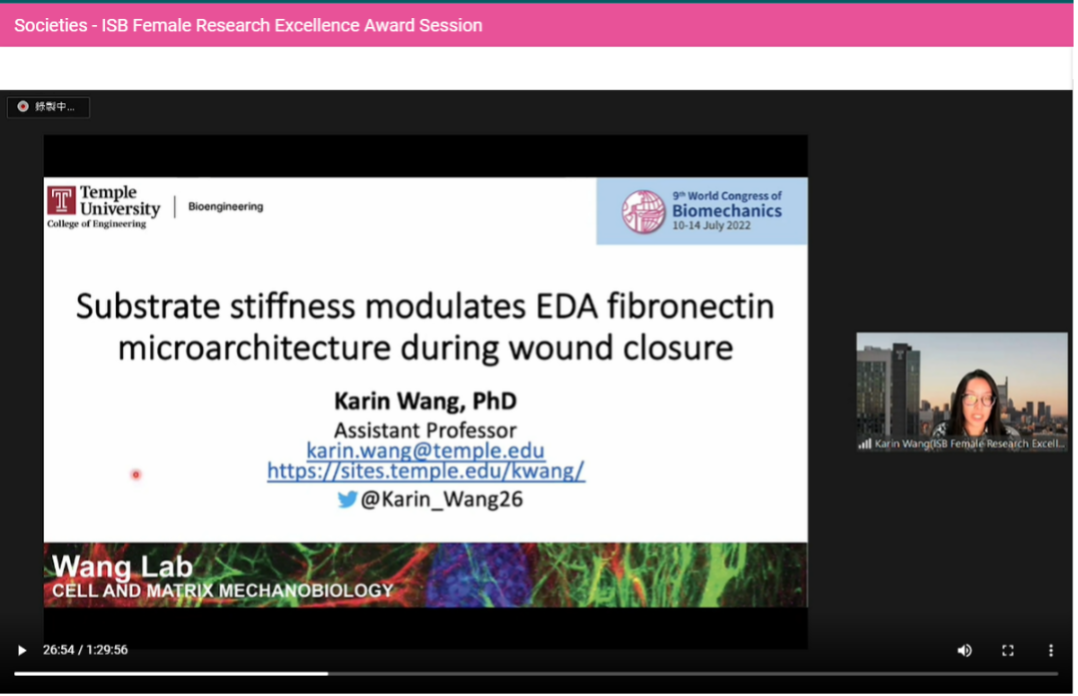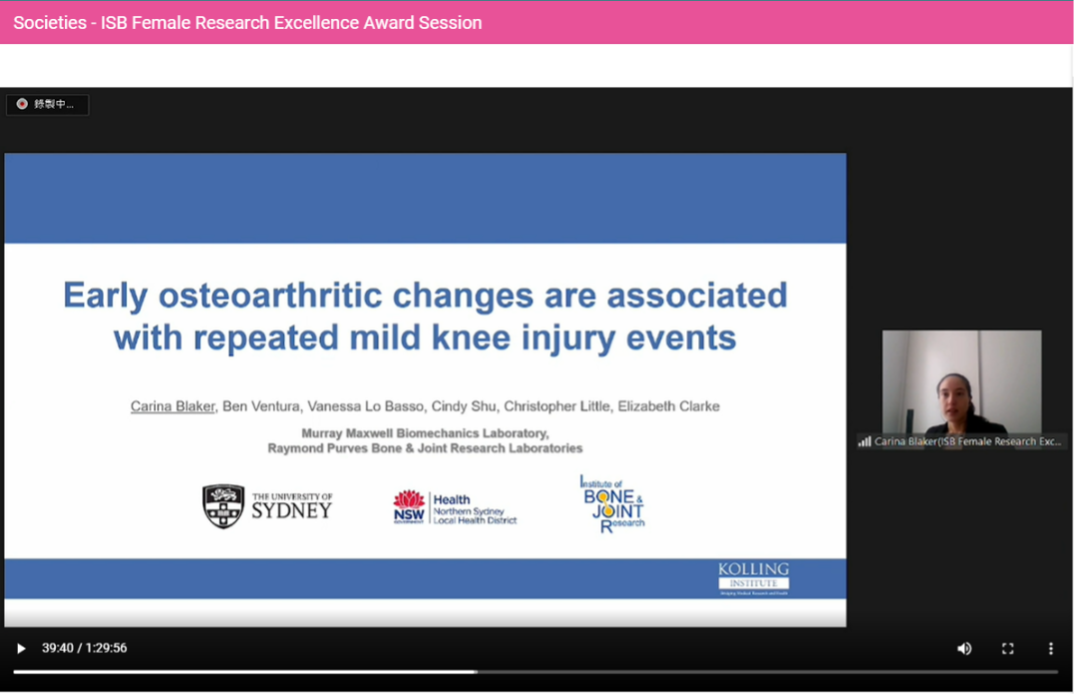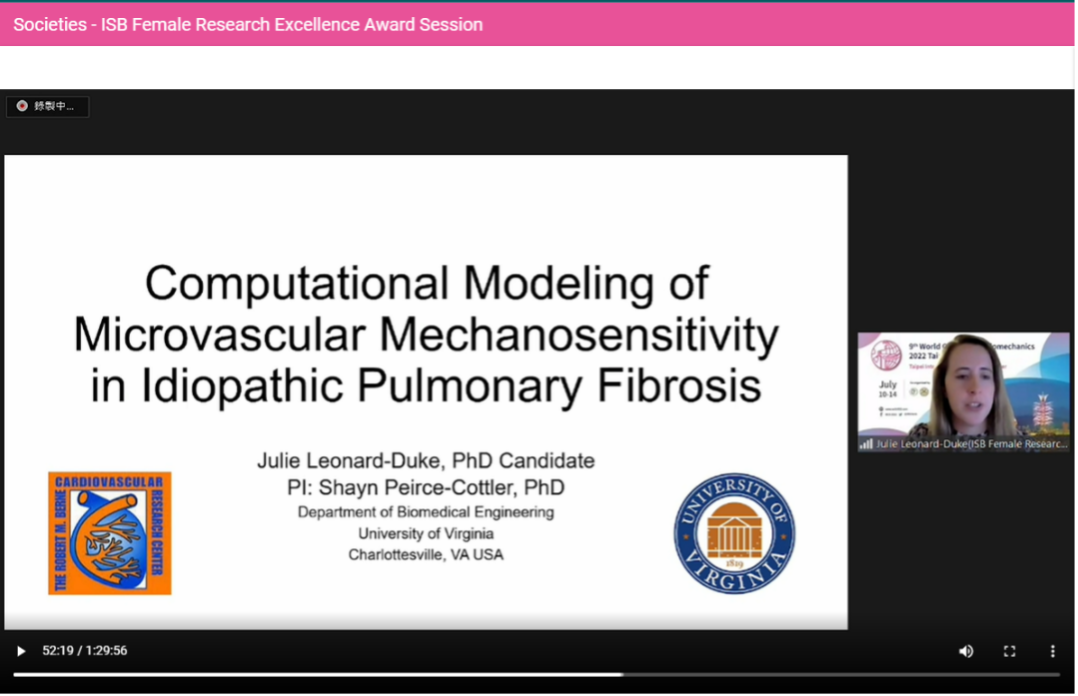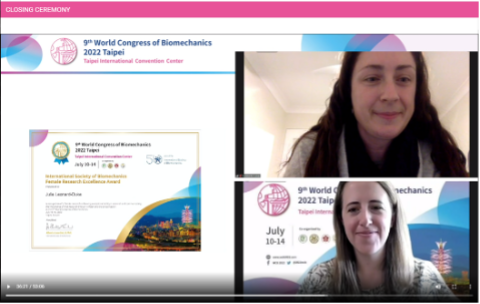 The new student initiative and Science in the Break (SitB) are online!

Check out the first two interviews available on youtube!
We invite you to watch our conversation with Ayman Assi from the University of Saint-Joseph in Beirut on how medical research works in Lebanon.
We also invite you to watch our conversation with Eliza Romero, a Ph.D. student at the RWTH in Aachen, Germany, on how her transition from Mexico to Germany occurred scientifically and personally.
This initiative is made by and for students and early-career researchers, and we would love to hear your voice!
Tell us about your research, personal journey, and what makes you passionate about biomechanics.
As always, we love to hear your perspectives on ISB matters, concerns, or if you want to participate in the student initiative.
Reach out to isb.studentrep.gmail.com.
During Summer of 2022 there were two awards presented to well-deserving researchers.
The first was the ISB World Athletics Award for Biomechanics sponsored by World Athletics. This honor is bestowed yearly to the individual whose submitted paper is judged best in the area of the selected theme. The 2022 theme was biomechanics of throwing. The winner was Tadahiko Kato from Shonan Institute of Technology, Fujisawa, Japan with his paper titled "Investigation of a Theoretical Model for the Rotational Shot Put Technique." Dr. Kato will receive US $5,000, the opportunity to submit the paper to the Journal of Applied Biomechanics, and was able to present the paper at the International Society of Biomechanics Conference held in Liverpool, UK. The 2023 theme will be jumping and will be presented at the XXIX Congress of International Society of Biomechanics to be held in Fukuoka, Japan.
The second award was the Female Research Excellence Award developed in association with the celebration of the 50th anniversary of ISB to take place in Fukuoka, Japan in 2023. The award was presented at the 9th World Congress of Biomechanics in July. It was decided that this award would recognize a female researcher showing exceptional ability in research and communicating the importance of that research through written and oral presentation. Six finalists were asked to present at WCB and Julie Leonard-Duke from the University of Virginia was the winner with her presentation titled "Computational Modeling of Microvascular Mechanosensitivity in Idiopathic Pulmonary Fibrosis." She received US $1000 from ISB.
For more information about the ISB Awards you can always contact the ISB Awards Officer Tim Derrick.
2023 Congress Awards
It is our pleasure to announce the award competitions for the XXIX Congress of International Society of Biomechanics to be held in Fukuoka, Japan in 2023 (July 30th to August 3rd). For additional information look to the Congress Website or contact Tim Derrick, the ISB Awards Officcer, at This email address is being protected from spambots. You need JavaScript enabled to view it..
Awards
David Winter Young Investigator Awards (Podium and Poster). Candidates must be first author and should not have been awarded a PHD prior to abstract submission. Winners receive a certificate, USD $750 and free ISB membership for 2 years. Application deadline is the abstract deadline for the Congress.
Clinical Biomechanics Award. Application is open to anyone. The winner receives USD $1250 and the opportunity to publish their research in the journal Clinical Biomechanics. Application deadline is the abstract deadline for the Congress.
ISB World Athletics Award for Biomechanics. This is our only annual award, and it is sponsored by World Athletics for USD $5000. This award will recognize excellence in an area of biomechanics determined by World Athletics. This year's theme is jumping. In non-ISB Congress years, the award is presented at the ISBS Congress. Authors of five selected abstracts will be asked to submit a full-length paper. The winner will submit their paper to the Journal of Applied Biomechanics and will be invited to give an oral presentation at the Congress. Application deadline is the abstract deadline for the Congress.
Promising Scientist Award. Candidates must be first author and have been awarded a PhD by the time of the Congress but not be more than 5 years post-PhD at the time of the Congress. The winner will be invited to give a plenary presentation at the Congress, will receive a certificate, USD $5000, and a waiver of the registration fee. Application deadline will be announced later.
Carlo de Luca Emerging Scientist Award. Candidates must not have received their PhD before the previous ISB Congress. The award recognizes excellence in graduate research in motor control and electromyography. The winner will be invited to give a plenary presentation at the Congress, will receive a certificate, USD $2500, and a waiver of the registration fee. Application deadline will be announced later.
The Jacquelin Perry Emerging Female Scientist Award. This is a biennial award sponsored by the International Society of Biomechanics for USD $5000. Dr. Perry's groundbreaking research in gait came at a time in which gender inequities established barriers for female researchers (for a brief bio visit http://www.polioplace.org/people/jacquelin-perry-md-dsc-hon). Candidates must be female and have been awarded a PhD by the time of the Congress, but they should not be more than 5 years post-PhD. The award winner will be invited to give a plenary presentation at the ISB Congress and be granted a waiver of the registration fee for the Congress. Application deadline will be announced later.
September is the time to start planning your 2023 ISB student grant submissions. The Matching Dissertation Grant, International Travel Grant Program and International Affiliate Development Grant will once again be accepting applications with a deadline of January 3, 2023.
These long-standing students grants offer support to grow your research toolbox and network with a visit to a lab in another country as well as support the completion of your dissertation project. Don't miss out and talk with your advisor right away. Quick reminder you and your advisor must be active financial members of the ISB to participate in the grant program- don't forget to renew to your membership for 2023.
The XXIX ISB Congress will be in Fukuaka Japan. This will also be a grand celebration of the 50th Anniversary of the ISB. The Student Congress Travel Grant is back with a deadline of Feb 1, 2023 These grants will vary in size from $600USD up to $1200USD, according to the distance from the Congress city. To be eligible for this grant the student must be first author of the Abstract and presenter of the paper at the Congress. At the time of application for the grant you must not have defended your dissertation or concluded your degree program. More details can be found on the ISB website.
**Attention Post-docs** The ISB will be supporting a NEW post-doc congress travel grant for 2023. Many current post-docs missed out on the opportunity to build their international network as the 2021 meeting in Stockholm was transitioned to a virtual meeting. These $500USD awards may offset costs for registration to the Congress. To be eligible for the award the Postdoc must be the first author of the Abstract and presenter of the paper at the Congress. The deadline will be Feb 1, 2023. Details on the award will be posted to the ISB website soon.
If you have any questions about the grant program, feel free to contact Katherine Boyer, our ISB Council Student Grant Officer.
National Biomechanics Day is the long running, Biomechanics Stem and STEAM (A for Arts) outreach program occuring around the world. While we started in the United States in 2016, by the following year, Biomechanists from around the world held NBD events. And what is an NBD event? Simple, it is a fun day of biomechanics science shown to high school students. To date this year, we have introduced biomechanics to over 3,500 high school students and since our inception, over 35,000 high school students have enjoyed NBD celebrations in 37 countries. We have billions of great photos and videos (possibly more) from these events on our Archives page for you to enjoy.
The past two years, NBD has become part of the Biomechanics Firmament, as we like to say. This is because we are now distributing grants to Biomechanics students to help them create NBD events but also to help them develop their biomechanics kills and knowledge by supporting their travel to biomechanics conferences. We have distributed over 30 grants valued at about $30,000 to students in 18 countries. The grant programs have so far centered on communities typically underserved in the sciences. This year we sponsored events supported Black, LatinX and Women in Biomechanics and also biomechanists working in the area of disability. Please see the list of 2022 programs in our website, and consider applying for an NBD grant in 2023. They will be announced very soon.
NBD also held its second, "Sponsors' Technology Forum," this past March. We provided an outlet for technology sponsors, those producing biomechanics instruments to show their products to biomechanists. Since we are not yet traveling as much as pre-pandemic, this outlet enabled sponsors to reach more young biomechanists and the biomechanists to learn about various companies and instruments they may want to use. The Forum and the technology manufacturers can be seen here.
And the NBD 2022 Photo of the Year...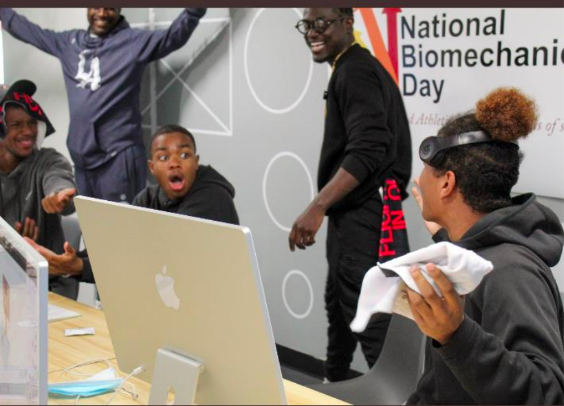 NBD 2022 at the University of Southern California, United States. Hosted by Dr. Susan Sigward and Ms. Stephanie Guzman, NBD grant recipient NBD celebrations have a lotta everything and this photo shows the whole package: fun, amazement, smiles, laughs, and... fun!
NBD has many wonderful sponsors and we thank all of them for their continued enthusiasm in growing our science.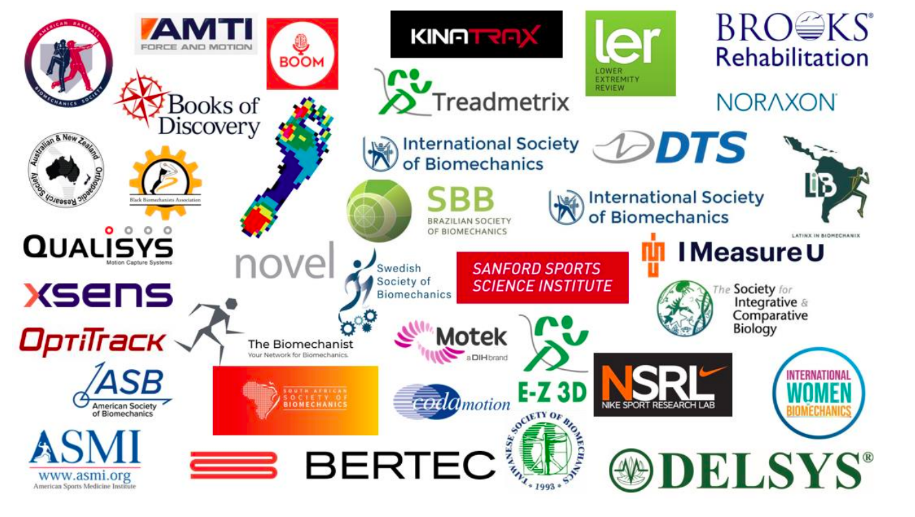 Click here to see a slide show highlighting NBDs the world over.