Home

>

News

>

Hand and Wrist Biomechanics International
March 2023
In this issue of ISB you will find:
---
ISB wants to hear from our ISB members!
Send your suggestions of topics that you would like to read in the next issues of ISB Now to This email address is being protected from spambots. You need JavaScript enabled to view it.and we will work to attend your requests.
---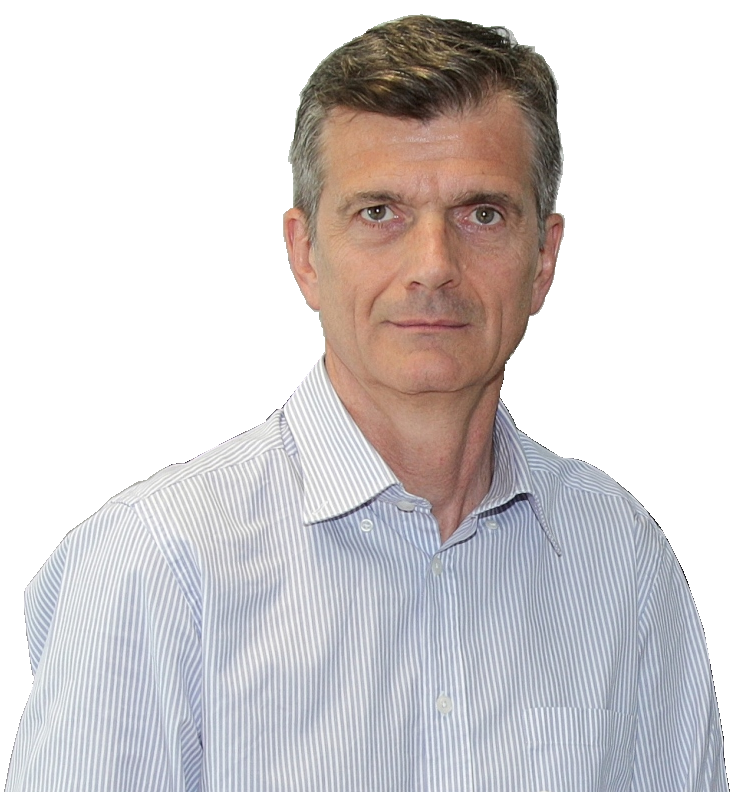 I have been told recently that 'research' and 'question' are the same term in Latin, quaestio (from the verb quaerere). I do not know your exact reason(s) for undertaking a career in biomechanical research, it may be curiosity, attitudes, jobs, offers, friends, or opportunities, but certainly, there is also the natural interest for searching to find reasonable answers to innate questions about our nature. We eventually want to understand the mechanisms of human motion and organ functions, together with the onset of relevant diseases and possibly relevant best interventions and treatments. Since my initial experiences, I got fascinated by the harmony of locomotion and by the clever features and the overall perfection of the human joints. At the same time, I got somehow disappointed by the difficulties in supporting and replacing these joints, i.e. any artificial replica works limitedly. It is like the search for inner secrets, the exploration of an unknown complex field, to finding the key to the door eventually. In other words, we ask the human body to unveil its enigmas. And the more we understand, the many more the questions are.
This search is sometimes frustrating, for the troubles in the experiments and the failures of possible theories and hypothesizes. But most of the time this work seems within an aura of attraction, because of the intriguing questions we have, of the appealing of initial observations, and of the challenging of some findings. It is just amazing, in my area for example, the way ligaments, cartilage, bone, muscle & tendon work together to guarantee the necessary mobility and stability at the human joints. And it is just beautiful to see how the asynchronous motion of legs results in a very smooth progression in locomotion. But we are not satisfied by knowing how, we also want to know why. Thus "Beauty is the splendor of Truth" it is not just a famous quote but may be the secret of our passion. And I believe this should affect our teaching and training: "The mind is not a vessel to be filled but a fire to be kindled." Plutarch.
Hopefully, our Congress in Fukuoka this year can contribute to this fire, by sharing passion and curiosity, with eagerness to learn from each other.
Alberto Leardini
ISB President
---

The XXIX Congress of the International Society of Biomechanics will take place in Fukuoka from July 30th to August 3rd 2023. This year we will all meet in Fukuoka to celebrate biomechanics and the 50th ISB anniversary. Fukuoka is a city located on the northern shore of Kyushu island in Japan. It is the largest city in Kyushu and the sixth-largest city in Japan, with a population of approximately 1.5 million people. Fukuoka is known for its rich cultural heritage, beautiful natural scenery, and vibrant urban atmosphere. One of the most popular attractions in Fukuoka is the Fukuoka Castle ruins, which is a historical site that dates back to the 17th century. Other popular attractions include the Fukuoka Tower, a 234-meter tall tower with observation decks offering stunning views of the city, and Ohori Park, a large park with a beautiful lake and gardens. Fukuoka is also famous for its food, and its many gourmet specialties. Some of the local specialties include Hakata ramen, mentaiko (spicy cod roe), and motsunabe (a hot pot dish made with beef or pork offal). Overall, Fukuoka is a dynamic and lively city with a unique blend of traditional and modern culture. Its rich history, beautiful scenery, and delicious cuisine make it a popular destination for tourists and a great location for hosting international events such as conferences and congresses. Learn more about Fukuoka by clicking here.
The ISB Congress in Fukuoka is also a celebration of the Japanese Society of Biomechanics (JSB). JSB was launched in 1957 as the Japanese Society of Kinesiology. Since then, JSB has continued to enhance academic research on human movement and promotes academic interactions among scientists to encourage research in biomechanics as a leading scientific society in Japan. Now, JSB holds more than 1100 members. In conjunction with the International Society of Biomechanics (ISB) holds conferences every odd year, JSB keeps holding bi-annual conferences every even year. In the history of ISB, JSB scholars are known as very active, creative, and assiduous delegates in the ISB conferences. In the last ISB 2019 conference in Calgary, JSB scholars occupied the top number of participants except for American and Canadian participants. It is worth noting JSB scholars successfully organized ISB conferences twice in Nagoya in 1981 and Tokyo in 1997. Those organizers achieved an excellent reputation from participants for their heart-warming and well-organized conference management. We would like to recognize the member that are active in the congress organization as well as the scientific commitee and congress sponsors.
As we have mentioned in previous issues of ISB Now, the 2023 Congress will also be a place for big celebrations. The 50th ISB anniversary will be celebrated with two special sessions during the congress, similar to what we organized at the last WCB. These sessions are under final arrangements and will be announced soon. The 50th ISB anniversary celebrations will also include publishing articles in special issues in the leading journals of our field. These special issues are under preparation and will soon be published. The 50th ISB anniversary celebrations do not stop. ISB is creating a digital environment to make relevant photos, letters, proceedings, and other historical documents available and to transmit the prestigious history of ISB. The virtual museum is also in preparation to show old valuable instruments, relevant experiments, and special devices used/derived from biomechanical research activities. We have mentioned these initiatives before as well. What you did not know because we have not mentioned yet is that we will also have a big cake. What kind of 50th anniversary would ISB have without a big cake? You do not want to miss this!
As the congress approaches there are many information that you might be interest to check! We would like to highlight some important information regarding the event:
If you have any question, you may also contact the congress organization!
We are looking forward to celebrate the ISB Congress in Fukuoka with all our members!
See what the most mentioned AI chat in these days said when requested to write an invitation to the upcoming ISB Congress in Fukuoka:
"Dear esteemed members of the International Society of Biomechanics,

It is with great pleasure that we invite you to attend the XXIX Congress of the International Society of Biomechanics, which will be held in Fukuoka, Japan. The congress will take place from August 5th to August 9th, 2023, at the Fukuoka International Congress Center.

We are confident that you will find the scientific program of this congress to be both engaging and thought-provoking. The program will cover a wide range of topics related to biomechanics, including musculoskeletal modeling, rehabilitation engineering, sports biomechanics, and clinical biomechanics, among others.

In addition to the scientific program, we would like to draw your attention to the beautiful city of Fukuoka. Located on the northern coast of Kyushu Island, Fukuoka is a vibrant and cosmopolitan city with a rich cultural heritage. Fukuoka is famous for its exquisite cuisine, beautiful parks, and stunning natural scenery. We believe that you will enjoy exploring this wonderful city and experiencing its unique blend of traditional and modern culture.

We hope that you will accept our invitation and join us in Fukuoka for what promises to be an exciting and enriching event. We look forward to welcoming you to Japan and to sharing our passion for biomechanics with you."

---
Proudly sponsored by the International Society of Biomechanics.
The EDC Student Travel Grant is designed to enable students from economically developing countries (EDC) attending ISB 2023 in Fukuoka, Japan. It entails three grants that each comes with a monetary support of up to AU$4.000 for covering the costs of attending ISB 2023.
Requirements: To be eligible for the award, a candidate must be enrolled as a graduate student at an institution that is located in an EDC and have submitted an abstract for ISB 2023. Among the abstracts submitted, a committee of ISB council members will choose three contributions that will be awarded.
For more details about the application, contact the EDC officer Daniel Hahn.
Important note: Please be aware that you can apply for one EDC grant only.
Contributed by Daniel Hahn
---
The call for 2027 ISB Congress Bids is now open. ISB Congresses are typically held during June, July, or August of odd years. The President-Elect of the Society is responsible for attracting bids, corresponding with bidders, and working closely with the successful applicant during the congress preparation. Therefore, members interested in preparing a bid should contact President-Elect Elizabeth Clarke to ask for further details. The proposal must follow the ISB guidelines, which can be read here.
---
Proudly sponsored by The Biomechanics Initiative (National Biomechanics Day), Tekscan, and the International Society of Biomechanics.
The Developing Countries Grant Competition 2023 (DCGC) will award five research projects from EDC biomechanics groups with the purpose to incentive innovative and collaborative activities to develop biomechanics in EDC regions. It entails a certificate and five monetary awards of AU$2.000 each for scientific purposes. The five award winners are expected to give a presentation of their project at the ISB-congress of the same year.
Any biomechanics researcher ISB member from an EDC is eligible to apply. The proposal awarded will be developed in an EDC.
The submittted applications are received by This email address is being protected from spambots. You need JavaScript enabled to view it. according to the grant guidelines and the proposal template. The application deadline is March 17th. Among the proposals submitted, a committee of ISB council members will choose five contributions that will be awarded. The results will be announced in the upcoming ISB Congress!
Contributed by Daniel Hahn
---
The International Society of Biomechanics is proud to announce a new partnership with the Journal of Applied Biomechanics (JAB).
As the society celebrates its 50th anniversary and JAB prepares to celebrate its 40th, this new relationship is founded on decades of mutual commitment to furthering biomechanical strategies to advance the study of human movement. ISB members will receive complimentary subscription access to the journal as well as a 50% discount on open access publication fees (limitations apply) for articles accepted by the journal.
In addition, ISB members who are currently employed in World Bank designated low- and middle-income countries and are authors of articles accepted for publication in JAB will have their articles made free to read, without charge, for the first 3 months of publication. JAB will also publish the ISB World Athletics Award for Biomechanics paper.
Under the leadership of Editor-in-Chief Dr. Katherine Boyer (current member of the ISB Executive Council), JAB is a well-regarded journal with an Impact Factor of 1.606 and an acceptance rate <15%. JAB is active in marketing the articles it publishes on social media and is indexed in Web of Science, Scopus, PubMed/MEDLINE, ProQuest, EBSCOhost, and Google Scholar. JAB is a hybrid-model journal with no submission or publication fees, but open access publishing is available.
"JAB is excited to partner with ISB and we welcome submissions from all society members," said Dr. Boyer. "The journal is a great destination for your best work and is committed to timely peer review and superb dissemination. Your research will make an impact when published in JAB."
Contributed by Janet Dufek
---
Biomechanics is on the up in Africa!
An article in the Journal of Biomechanics highlights some of the recent developments on the continent, and describes existing challenges and future opportunities for growth. The potential of biomechanics for improving human health and performance is well established in many parts of the world. However, across most of Africa, biomechanics remains relatively underdeveloped. The discussion around biomechanics in the continent has increased in recent times and young African scientists are pursuing career opportunities in biomechanics-related fields within Africa and in other parts of the world. We would like to invite to to read the full paper clicking here or directly in the J Biomech publication link.
Contributed by Helen Bayne.
---
Along with ISB, and persuing our vision, we promote (early) career researchers from all over the world in line with equity, diversity and inclusion. We aim to spotlight your work, your lab activities as well as share your personal development and career paths, for inspiring other researchers.
In this new video by Science in the Break, we have spoken with Ass. Prof. Fabio Barbieri, São Paulo State University (UNESP), Brazil. Check the video if you are interested to know more about his work in Brazil, as well as his acadmic journey so far.
Subscribe to our channel to be updated to new content and to help the growing of our platform!
Do you want to know more about this topic? Please leave us a comment below or write to us (This email address is being protected from spambots. You need JavaScript enabled to view it.).
Follow us on Twitter https://twitter.com/SciInTheBreak and Instagram https://www.instagram.com/scienceinthebreak/.
Don't hesitate to contact us to get involved in new projects with Science in the Break!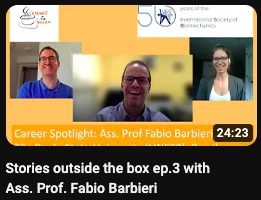 Contributed by Anja-Verena Behling
---
ISB is proud to support students all over the world. We invite you to read the report from the former recipient of the ISB Matching Dissertation Grant, Pieter Van den Berghe, from the Research Unit in Biomechanics of Human Movement, Ghent University.
Advisors: Profs. Veerle Segers, Marc Leman, Dirk De Clercq
Dissertation Title: Motor retraining by real-time sonic feedback: understanding strategies of low impact running
I wish to thank the International Society of Biomechanics council and my advisors for their support in providing research funding through the Matching Dissertation Grant Program. It was a helpful financial support for the work initiated at Ghent University, which gave me the ability to complete the PhD amid the COVID-19 pandemic.
My PhD dissertation is entitled "Motor retraining by real-time sonic feedback: understanding strategies of low impact running". Human running is a very popular physical activity and has many health benefits; however, running comes with a risk of overuse injury. Situated in the framework of injury prevention, my PhD research aimed to transfer the practice and evaluation of running retraining for impact reduction with the use of live feedback about impact out of the laboratory.
The first part of the dissertation was about the co-development, validation and evaluation of a wearable feedback device providing musically inspired feedback to reduce impact loading in running [1-5]. Using this novel device, individualized biofeedback is provided in real-time through music (i.e., musical distortion at high impact) that allows the user to make adjustments leading to a significant reduction in impact. We expected an impact reduction during running with the audio biofeedback and found a substantial impact reduction of ~26% and of large effect in controlled interventions [2-4]. The musically inspired feedback application can boost gait retraining in real training environments with the aid of smart running accessories. The biofeedback device has great ecological value due to the portable hardware for outdoor usage and stimulated a change in how humans with high-impact run.
The second part of the dissertation gives insights into possible strategies for low(er) impact running. Two motor strategies were discovered. One strategy that emerged from empirical evidence was an obvious heel strike for running with a relatively low peak tibial acceleration [5-6]. The radical changes in equipment in biomechanics laboratories such as in the recent Sport Science Laboratory-Jacques Rogge allow that the research involving foot strike patterns is more fine-grained than it was in the 1980s. In a lab-based study led by my colleague Dr. Rud Derie, we came to a better understanding of the main change in running style in response to the music-based biofeedback [7]. The published studies advance our understanding of running biomechanics to eventually minimize injury risk and to promote health. The PhD dissertation has been published in brief by the British Journal of Sports Medicine in the PhD Academy Award category [8], which you can freely access using this link.
Besides the student grant program, the ISB has brought me joy and excitement in ways I could not have imagined. With this newsletter note, I now have the opportunity to share how this Society can influence one's research process. As a student member of the biomechanics community, you are not an island and interacting with community members is a fabulous opportunity to learn and grow. One way to interact with other biomechanists is through the ISB Mentoring Program. The purpose of this societal program is to bring together biomechanics students and established biomechanists (or other students in the field). Many ISB members exhibit a common trait of being very committed to their interests, working hard, showing generosity and a willingness to help others in our field. The discussions I had with Prof. Allison Gruber has been very insightful and even set a short research visit in motion to the Indiana University Biomechanics Laboratory few years ago.
Another way to interact with biomechanists at the international level is by attending professional meetings such as the biennial ISB Congress. I have come to believe that these meetings are essential for the development of a young researcher. There you will find an abundance of generous and supportive community members willing to share insights and lessons learned, often in the hope it takes you less time to learn these lessons than it took them. The associated mentoring events, usually organized by the student representative, are excellent social events to participate in as a young member. By swapping stories with other researchers one can refine thoughts about ongoing research and new research ideas may bubble up.
Following the ISB Session about footwear biomechanics at the 8th World Congress of Biomechanics, an informal conversation that I had with Dr. Marlene Giandolini of the Salomon SAS' Innovation and Sport Sciences Lab made me think differently about 3D tibial acceleration in level-ground running. This conversation led us to join forces as we kickstarted a rather unique multi-center construct report. A year later, our main results were orally presented for a full house at the ISB/ASB 2019 conference in Calgary, Canada.
Good science is too challenging to tackle alone, so building bridges from your island to exchange knowledge and collaborate is of mutual benefit to advance our field. Two years later, the closing piece of my dissertation which involved a quasi-randomized controlled trial was recognized with a finalist place in the David Winter Young Investigator poster award competition during the virtual ISB 2021 congress.
Along the way, I made friendships that have enriched both my professional and personal life. Committed and friendly team and societal members are one of the most important elements for success if pursuing doctoral studies. Teamwork makes the dream work, and when matched we can make a big leap forward in a single dissertation. Although the experiences that I shared may seem trivial, I hope they can be helpful to others.
Sincerely
Pieter Van den Berghe
References
▀ denotes Open Access.
---
Every two years ISB members elect a new President-Elect and Executive Council. The Executive Council members are elected for a 2-year term, with a maximum of three terms, and represent countries from throughout the world and various scientific areas within biomechanics. The Executive Council meets every year and provides leadership for the continued development of the Society and oversees the many on-going activities that are performed by Council appointed sub-committees, including activities in Economically Developing Countries, student grants, and student awards. The President-Elect is responsible for coordinating the proposals for the 2027 ISB Congress and will become President in 2025. Typically, there are 3 to 4 vacant positions on the Executive Council and the President-Elect position is open and must be filled.
ISB encourages you to nominate individuals from the ISB membership for both the executive council positions and president-elect position. All nominations must be agreed to by the person being nominated. Self-nominations must be endorsed by a current member of the executive council or an ISB Fellow. Nominations should consist of the name of the individual and a brief biography (no more than 250 words) and emailed to ISB past-president Toni.Arndt (This email address is being protected from spambots. You need JavaScript enabled to view it.).
Once nominations have been received an anonymous ballot will be administered by the ISB Treasurer approximately 3 months prior to the biennial congress.
Please note that all President and Executive Council members are unpaid and are required to cover their own costs for travel and accommodation to the annual council meetings.
Please note: We want to make sure that the ISB Council is equitable and diverse and represents the interests of all members.
---